Clean Air is Healthy Air | Nature's Way Inc.
Living with allergies can be frustrating — especially when they are caused by your own home. If you find yourself sniffling or sneezing all day, poor indoor air quality might be to blame. An air purifier can remove irritants from the air and help relieve your allergy symptoms.
Our technology also has the ability to reduce viruses, common bacteria and fungi on surfaces as well as other pollutants and odors in the air. We also have a wearable personal air purifier that creates a force field that repels viruses, common bacteria, and other contaminants and creates a clean air zone around you.
Suffering from allergies at home or want a clean air zone around you to ward off viruses, common bacteria, and other contaminants? Send us email at NaturesFreshAir@msn.com or call 413-734-7882, 531-0911  for an honest, professional opinion about your indoor air quality and how an air purifier may help!
We have the best air purifiers for allergies available including products by Best Living Systems, and Green Tech Environmental. An air purification system from Nature's Way, Inc. can remove 98% to 99.9% of bacteria, mold, viruses, VOC's, formaldehyde, and other contaminants from the air.
The 3000 MERV+ with Ozone on Demand is proven to deactivate 99.98% of SARS-CoV-2, the virus that causes Covid-19, from the air.
Active HEPA+ with ODOGard® are the only purifiers to combine both active and passive air purification technologies with the odor-eliminating power of ODOGard. In addition to reducing volatile organic compounds (VOCs), allergens such as pollen and pet dander, and odors caused by mold, bacteria, and other pollutants, they have been proven to inactivate 99.98% of SARS-CoV-2, the virus that causes COVID-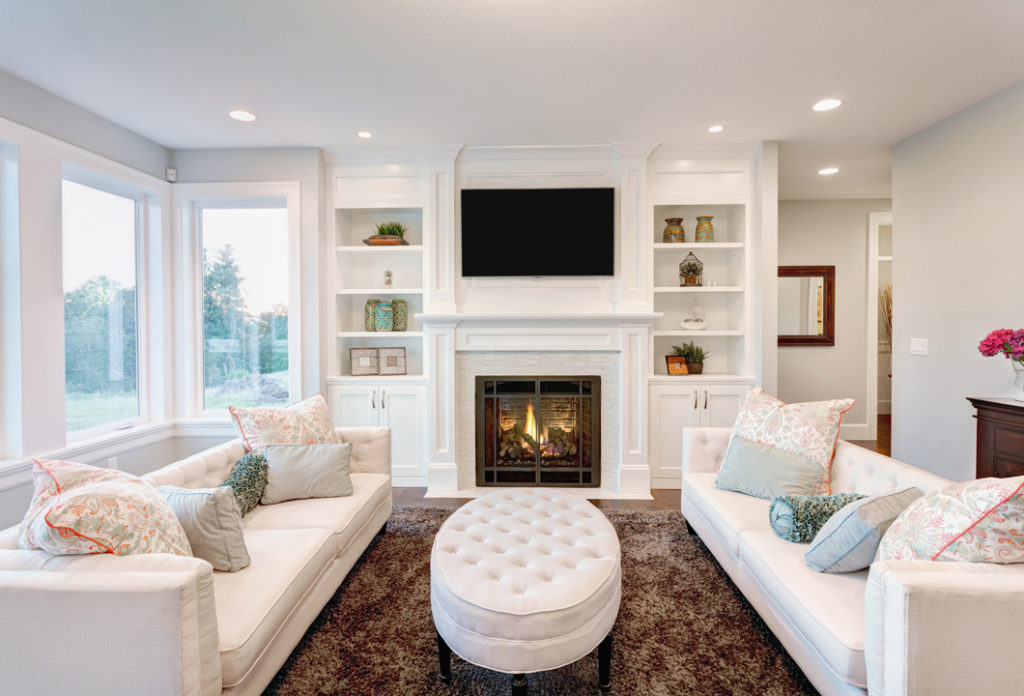 How can my home cause allergies?
Homes today are sealed to prevent heat loss. Pollutants and contaminants often have no way to vacate the home. According to the EPA, our indoor environment is two to five times more toxic than our outdoor environment, and in some cases, the air measurements indoors have been found to be 100 times more polluted. We spend as much as 90% of our lives indoors. Researchers are investigating our exposure to indoor pollutants as contributing causes to the rising incidence of autism, allergies, and toxin load.
Inadequate ventilation is a primary cause of indoor air pollution and is why pollutants rise in homes during the winter. In highly urbanized and industrial areas, lack of air conditioning and high levels of humidity can increase concentrations of pollutants inside.
How can an air purifier help?
Through our air purification proactive technologies, contaminates can be removed from the indoor air and surfaces can be sanitized by the oxidation process from the air purifier. The air purifier sends out negative ions into the air, changing some of the positive particles to negative particles, negative and positive particles attract, grouping together, becoming so heavy that the particles drop to the ground where they are no longer in the breathable air stream. A plasma stream of air is emitted from the purifiers that send out oxidizers in a proactive way, oxidizing the pollutants in the air and on surfaces.
Most air purifiers are passive air purifiers using filters whereas ours are proactive, sending out plasma streams into the air to reduce and destroy pollutants where they are.
Passive air purifiers are like a mousetrap waiting for the pollution to get caught in the trap. If the pollution doesn't get caught in the trap, the contaminant remains in the air filter, but can still grow. Proactive air purifiers are like a cat, searching out the pollutant and destroying it whether it be in the air or on surfaces that the air encounters.
NEW pureAir SOLO
A wearable air purifier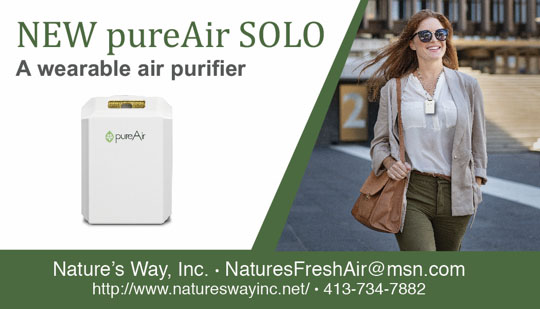 List Price $129.00
Tax = $8.06
Total    $137.06
pureAir SOLO is a sleek, wearable air purifier that creates a safe personal breathing zone by repelling particles from your breathing space. This clean-air zone or bubble acts as a 4 ft. barrier against pathogens like mold spores, bacteria, and viruses, as well as VOCs, which include harmful chemicals. Once you begin wearing it, you will immediately begin breathing in safe, clean air.
pureAir SOLO is best used when you are personally exposed to indoor or outdoor air pollution. It effectively repels allergens, allowing allergy sufferers to enjoy the outdoors or their pets. It shields you from airborne viruses and bacteria that spread during cold and flu season as you visit public places or even doctor's offices. Enjoy the experience of visiting friends and family without the negative effects of others' perfumes, colognes, or lotions. Travel on planes, trains, buses, or other methods of public travel without the worry of your breathing space and spreading illnesses.
pureAir SOLO delivers all-day protection with a rechargeable battery providing over 24 hours of use per charge. It includes a Micro USB charging cable and a breakaway neck cord for comfort and convenience.
Description
Sleek Fashion-Forward Design
At only 2.95″ H x 1.94″ W x 0.67″ D and 2.22 oz, pureAir SOLO is comfortably designed for wearable purification on the go.
Easy To Use
Simply place around your neck using the included breakaway lanyard styled cord and turn it on to experience your personal pure air zone.
Rechargeable
pureAir SOLO provides up to 28  hours of powerful purification bliss before needing 3 to 5 hours to recharge its lithium battery.
Convenient Purification
Solid platinum permanent emitter and gold plated stainless steel collectors produce ion density of 50 million per cubic cm, at an ion wind of 90 feet per minute.
Disclaimer
Use pureAir SOLO to enhance your other healthy habits. pureAir SOLO is not a medical device and is not a replacement for other practices recommended by the CDC.
Features & Specifications
Unit
Dimensions: 2.95" H (75mm) x 1.94" W (49mm) x .67" D (17mm)
Weight: 2.22 oz (64g)
Accessories: Breakaway Neck Lanyard (may differ from image)
Warranty: 1 Year Manufacturer's Warranty
Technologies
Ion Density: 50 Million Ions/cc
Power
Power Source: Rechargeable Lithium Battery
Power Usage: 0.2 W • Battery Life: 28 Hours Operating Time
Charge Time: 3-5 Hours (Micro USB)
Packaging Dimensions: 1.6" H (40.6mm) x 3.1" W (78.7mm) x 4.1" D (104mm)
Weight: 4.6 oz (130.4g)